La Merce 2018, the Barcelona 'festa major'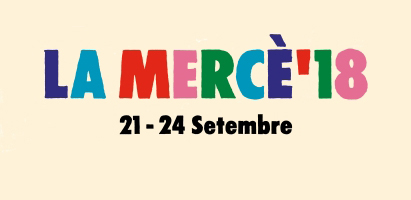 La Merce 2018
From 21 to 24 of September Barcelona is party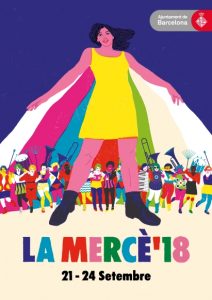 Barcelona's Festa Major begins on Friday 21 September, with the proclamation as the starting pistol, and will continue until Monday 24 September. Leticia Dolera, film actress and director, will be giving the proclamation in the Saló de Cent at Barcelona City Hall.
Barcelona illustrator and sketch artists Sònia Pulido has created this year's poster for La Mercè. Pulido is a graduate in Fine Arts and has worked for such media as Rockdelux, El País, The New Yorker, The New York Times and The Wall Street Journal.
It has been a tradition since 2007 for Barcelona to invite a world city as part of the La Mercè festivities. This year, the guest city is Lisbon. The portuguese capital will fill the city with a talent that is expressed in the world of music, but that also embraces audiovisual creations, tradition, theatre, dance, puppets and pyrotechnics. At Platja del Bogatell beach, as part of the XXI International Fireworks Festival, the guest city will be represented by the Pirotecnic Luso group, which has produced shows seen at the New Year's Eve festival in Lisbon as well as at major events in France, Belgium and Taiwan.
BAM y Mercè Musica
BAM and Mercè Música will be held at many venues throughout Barcelona from 21 to 24 September. The six music performances from Lisbon appearing at BAM are Surma, Bruno Pernadas, Capicua, Pongo, Real Combo Lisbonense and Throes + The Shine. Mercè Music proposes an evening of fados, with two outstanding performers: Cuca Roseta and Camané.
More info: Mercè 2018